WordPress security is a huge concern for every website owner. There are over 10,000 websites that are blacklisted by Google every single day due to malware and about 50,000 others weekly for phishing. If you are serious about keeping your website, it is essential for you to learn about WordPress security especially website malware removal and WordPress virus removal.
Since website malware removal is a challenging task, we want to help you get enlightened about its importance and why you should have a better security plan for your website. We want to make you aware about the basics on how a website security framework works and how you can protect your customers against malware and hackers.
Who Should be Worried About Website Security?
The first people who must be concerned about website security are the website owners. It is their responsibility to determine methods that can help with website malware removal, hosting security, and WordPress security. Even with a managed WordPress hosting, the owner should still be mindful in implementing the different security layers.
Website developers also share the responsibility of maintaining a secure website. More than creating the site and performing the usual maintenance, they also need to consider the security measures, such as website malware removal, applied on the website along with their primary obligations.
Even though it is the website owner's responsibility to protect the site, those who provide an array of website services should also think about hosting security. Site owners trust website service providers, like SEO agencies, designers, and marketing agencies, because they deliver core services for the website. They should be advocates in upholding secure practices in the delivery of their services.
Introducing Website Security to Customers
How you send the message about website security is one of the most effective ways to increase awareness against hackers and other means of compromising a website. Website owners have a role to play in informing customers about the advantages of having website malware removal and WordPress virus removal systems in your site. Right from the start, customers should be aware that you care most about maintaining a safe website and that you are a responsible website owner for doing so.
Consequences of a Website Security Breach
Hackers, viruses, and malwares are some of the most common website security risks. Any of these incidents can cause significant consequences on your brand and business.
1. Reputation
The brand reputation is the first one that gets tarnished whenever a website is compromised. Trust is an important aspect in any business. Regardless of the number of your customers, a brand can be destroyed in a matter of minutes. Unless a compromised site is able to solve the problem, like applying an effective website malware removal method, then the security breach will jeopardize the brand.
2. Financial Loss
The economic impact of a compromised hosting security is huge. Your business may fail if you are unable to do website malware removal. There is always some kind of a financial loss, especially when customers turn away from your brand because of having an unsafe website.
3. Emotional Distress
Becoming a victim to any website breach can be emotionally draining. More than the loss of monetary things, the kind of stress that is felt can be immeasurable. A customer may feel paranoid to shop online especially through your website because of the horrible experience of getting their accounts hacked.
4. Blacklists
When your website is tagged to be unsafe, you may be blacklisted from search engine indexes. This can have a direct and huge impact on the organic traffic as well as sales and revenue.
Not having a secure website, like a solid website malware removal plan, can cost you more than what you can account for. Financial loss is a given but the additional strain in dealing with all the complaints and frustrations from the customers is also just as taxing. It might also result to total business failure or loss of assets if left unresolved.
Understanding Website Security Framework
Now that you are aware about the importance of having a secure website, you may now delve a little deeper in order to understand how a website security framework looks like.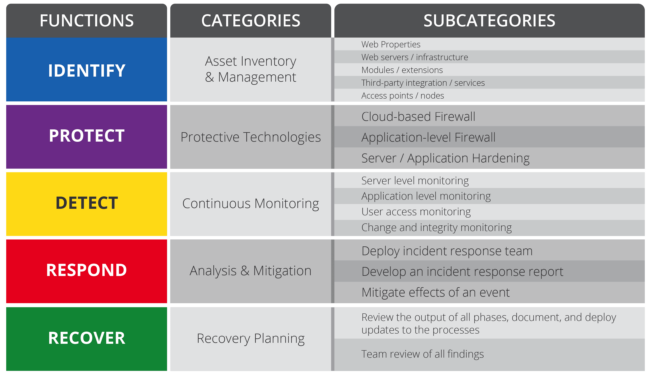 As illustrated, the framework has five focal functions: Identify, Protect, Detect, Respond, and Recover. Each of them has categories that serve as the main approach against security breach. There are also sub-categories that are specific actions that are done to target each type of security risk.
Identify
Basically, everything starts in identification of the website's security needs. There are thousands of WordPress sites and they do not share every single kind of security risk. For example, if the WordPress site is related to e-commerce, it is apparent that the site needs protection for processing of payments. Having a secure payment processing system deters hackers into compromising not only the site but also the customers who are going to use several payment methods on the website.
It is during this stage that you need to review and make an inventory of what goes on in the website. Are the plugins and themes installed safe? Can you tell where the domains and subdomains are? Are there any unused themes and plugins that may potentially be a threat to security?
These properties must all be accounted for so you can easily manage them and see if they pose a threat to the website.
Protect
It is impossible to totally eliminate the risks because new threats are created every single day. What you can do is to minimize the risk by working on those that are positively identified by the website security system. You need to be aware of the three different kinds of attacks so you will have the proper measures to install for your site.
The first kind of attack is called the Brute-Force Attack that happens when a hacker attempts to guess the account names and passwords in order to gain full-entry to the website. In the second type of attack, the DDos Attack, malicious programs will try to disrupt site performance by flooding the server with any kind of requests. If the site is overpowered, it will shut down. The last kind of attack is called Exploitation wherein the targets are the software vulnerabilities. The server, themes, plugins, and CMS software may have flaws that can be exploited or attacked by a virus or malware.
To be protected against these attacks, the website should have a series of security layers that will lessen the risks of getting compromised.
Detect
You are already aware that new threats are rapidly introduced in the internet in a daily manner. For this reason, you have to install a constant monitoring system to detect threats that may have successfully infiltrated the website. There must be a solid plan on how to sense a new threat to the system. Some security providers start the process with a thorough scanning of the core files and comparing them to an updated malware signature database. File integrity is also checked to make sure that there are no loopholes that can help compromise the security system. Finally, there should be a way to identify the indicators of compromise. Downtime, unexpected files, and injected content should be considered as warning signs.
Respond
Malware detection is only half-of the job done by the security layer. Malware is complex and tends to spread fast and get worse as time passes. It is essential to have a timely response in order to prevent the infection from spreading. As soon as a suspicious threat is identified, the website should be isolated in order to remove the malicious code. The databases should be cleaned up and a blacklist review is in order if the site has been blacklisted. Illegitimate accounts must be looked up by account verification, and passwords must be changed as an extra-precaution.
Recovery
The final phase or the last stage of a typical security framework is recovery. It is generally consists of a set of actions that can help minimize the chance of getting compromised again in the future. At this step, you should be able to identify the reasons why there was infection. You must be aware of the issues that led to an infection because it will serve as a lesson and a guide to see where you should patch up on the security layers. WordPress vulnerabilities must be identified and should also be patched. If there is a need to do so, a thorough SEO campaign should be put in action in order to recover from the losses. Lastly, repairing severed customer relationships should be done. It is essential that customers are aware that it is beyond your control that the site was infected. You have to make them understand that although your site was compromised, you were able to identify the root of the problem and have successfully got rid of it. Reassuring them that you are doing your part to maintain site security is also a must.
In a simple website security framework, you can determine what are the different risks involved once the website is compromised. It is detailed how you will first identify the affected component and then provide protection using proactive technologies. Once the initial processes are done, you still need to continuously monitor the system to detect new changes that can possibly harm the system. The last step is to lay out the recovery measures by reviewing the findings and deploying due updates to the system.
How is Security Delivered to the Clients
Being proactive is a key point in delivering security to all who are concerned in the website. Website security must be an open topic between the website owner, the web developers, and the website services providers. Website security must be regarded as an essential part of the process wherein it is seen as a never ending site maintenance practice.
This proactive approach to website security means that you might need to have the services of a managed WordPress hosting providing to aid in your website malware removal as well as any other security-related issues. Ideally, you must offer your website to your customers knowing full well that they must be protected at all costs.
Not knowing the specifics about how website security works is never an excuse to forgo everything about it. As you already know, there is too much at stake when you do not mind securing your site. Aside from potentially being blacklisted by the search engines, your reputation is also tarnished and you can never be trusted by the customers. Both scenarios will contribute to having a total loss of business and everything you have invested in the business will be a failure.
Airflour as the Best Hosting Security Provider
Website malware removal is a serious business. You are never prepared about what hackers and other bad elements are brewing up to destroy websites. Airflour is the best solution for website security because it is more secure and safe. The company uses updated technology in order to keep up with the latest malicious threats on the internet.
Worried about not having a clue with how it works? Airflour understands how it can be both mind-boggling and frustrating to learn every single detail about website security. We do not only give superb managed WordPress hosting services, but we also care about securing your site at every inch of the way. Be stress-free in the knowledge that you have the most dedicated technical support that you can count on at all times. Our team will be glad to discuss with you and be patient in explaining about the security measures that we put in place for your website.
Airflour has a team of WordPress specialists that are focused on delivering fast security services. Whenever your website is compromised, our veteran WordPress developers can have your site cleaned and be ready to work properly in no time.
With over seven years of malware-hunting and hacker-destroying experience, Airflour can confidently say that we can fix your site in less time that other WordPress security providers can. Unlike other companies, we set our goals to lessen the pain and inconveniences brought about by a compromised website security.